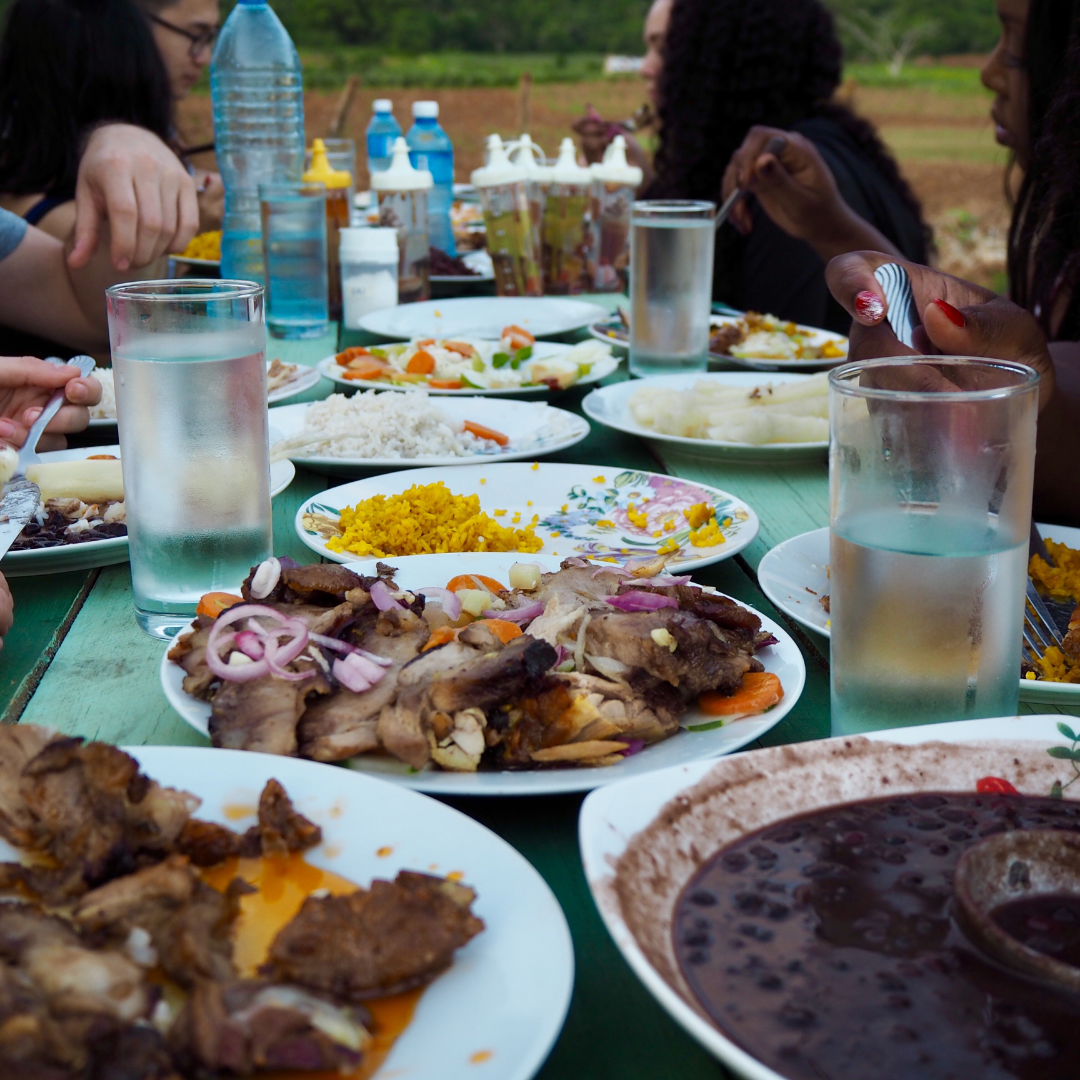 Guest Post: Megan Simpson of youRhere Modern Retreats
Forget the myth about terrible Cuban food. You just have to know what you're looking for & where to find it.
Megan Simpson from 'youRhere Modern Retreats tells us about the top 5 best Cuban food that you have to try when you visit Cuba.
Arguably the most exciting foray into another country is one that involves traditional food—and lots of it. Gaining abundant notoriety outside of the country, Cuban cuisine is undeniably exciting. Eating Cuban food is a multi-sense experience: scintillating smells, colorful presentations, and delectable flavors.
Undeniably, taste-testing the local fare is something the majority of tourists look forward to when packing for their trip; however, it's important to note that the very best food in the country can be found, not necessarily in government-owned/hotel restaurants, but in casas particulares. These popular accommodations are actually the homes of local families that provide room/board: sort of like an extra cozy Airbnb. All the cooking comes straight out of abuela's kitchen!
So – what are some of The Viñales Experience and youRhere's "must-try" staples?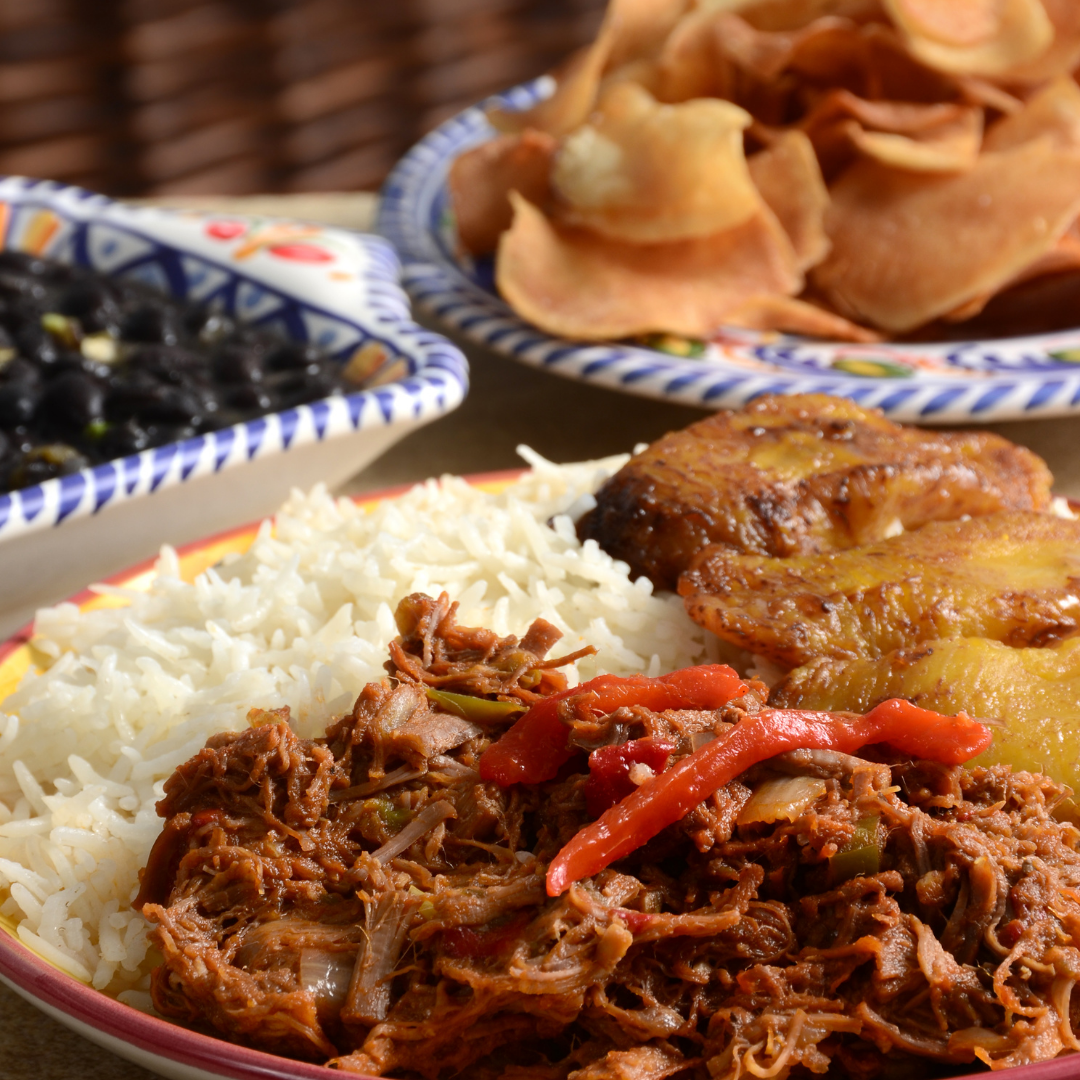 1) Ropa Vieja – (a rustic meat stew)
Literally translating into "old clothes" in English, Ropa Vieja is widely considered to be one of (if not, *the*) official dishes of Cuba. The eclectic stew gets its name from a Spanish legend, which tells the tale of a poor man who once removed, shredded, and cooked the clothes off his back to feed his family. While they simmered, the man prayed over the pot, and the concoction magically transformed into a meat-and-vegetables dish. In addition to the legend, Ropa Vieja's scattered, almost "messy" presentation lends to the mystical history. But don't let the name fool you—the flavors are fresh and comforting.
After being brought over from Spain, the Cuban adaptation process began. Cuba's version of Ropa Vieja skews slightly sweet with the addition of bell peppers and, sometimes, actual pinches of sugar. The meat is typically a flank steak—perfectly accented by peppers, garlic, onions, and tomato paste. Spices include paprika, oregano, and allspice. It's a hearty dish that will easily fill you up and keep you satisfied for hours.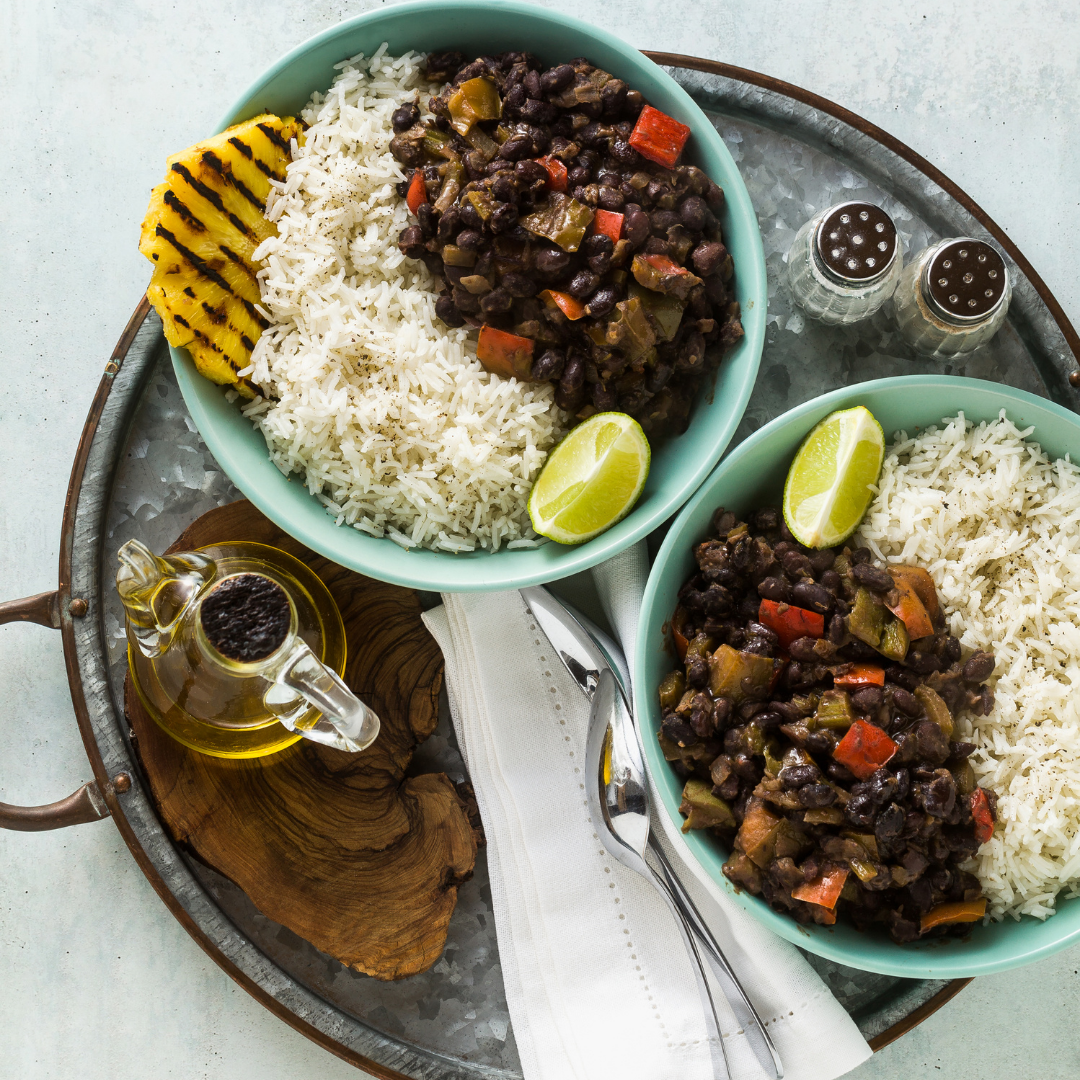 2) Potaje de Frijoles Negros – (black bean soup)
Speaking of hearty meals—who doesn't dream of soup once the temperatures drop a little? Variations of the Potaje de Frijoles Negros recipe exist in every province of the country—Eastern areas include bananas, potatoes, and taro into their version while central Cuba sticks to coriander.
One of the best parts of this dish: it's reusability and adaptability. Each iteration can be eaten over multiple days in multiple ways—the first being as the main course (a stew with broth, more or less) and the second being a side dish accompanied by white rice on the following day, after the beans have dried. No matter where you are in the country, some of the ingredients are tried-and-true staples: black beans, green peppers, onions, garlic, and a healthy about of cumin.
This dish lies at the heart of Cuban food and you won't fulfill a successful Cuban trip without tasting it.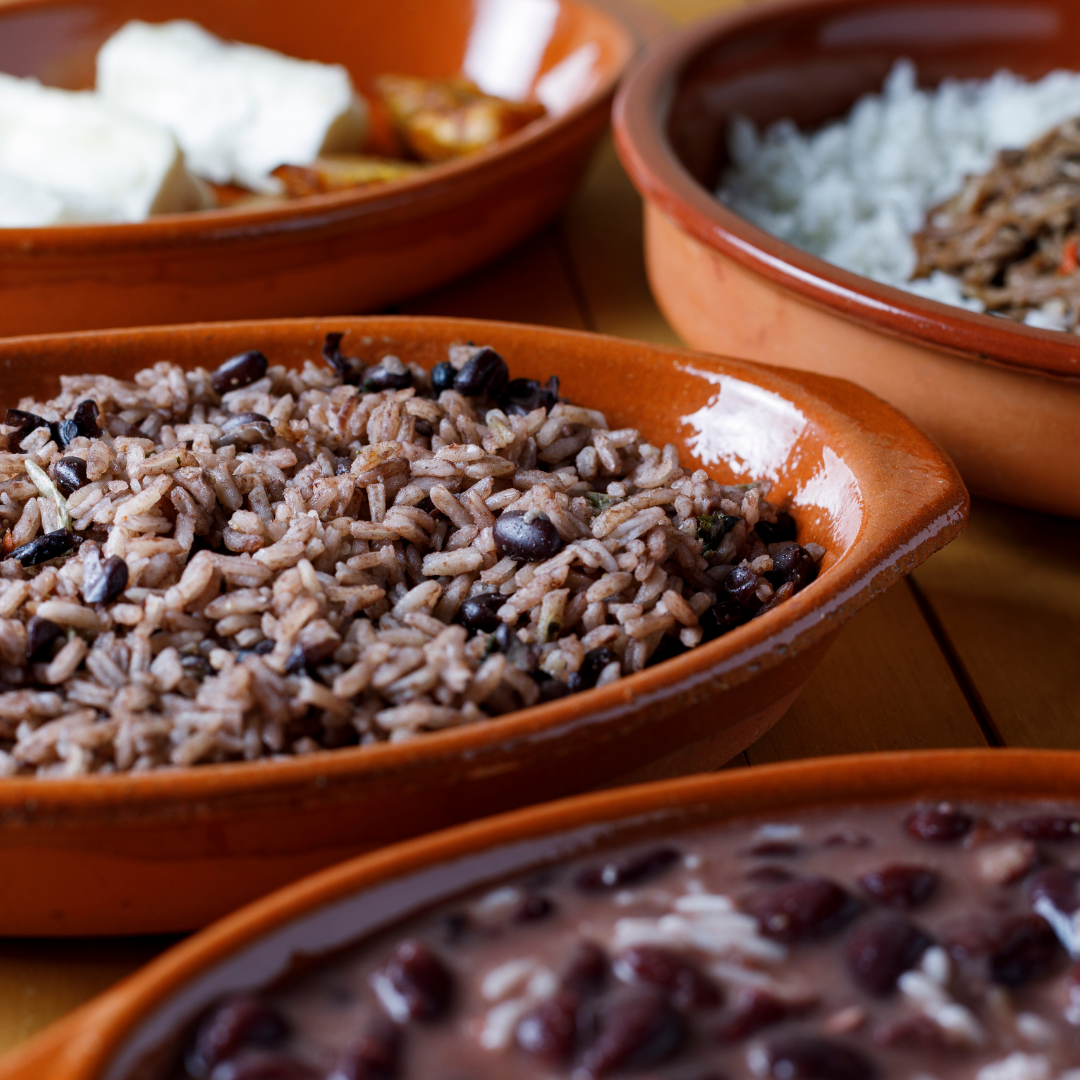 3) Arroz Moro – (black beans and rice)
If stews and soups aren't your thing—or you're looking for something less "busy" to please your palate—a straight-forward dish of Arroz Moro is an exemplary option. Its simplicity adds a dynamic element to the recipe: a smaller portion works well as a side and clean-eaters can enjoy it as an entrée. The mixture is also known as "Moros & Christianos," using the Spanish words for Muslims (Moros) and Christians (Christianos) to refer to the peace between the two religions after centuries of fighting in Spain. The combinations of the beans and rice symbolizes the latter harmony.
The recipe calls for but three main ingredients—black beans, white rice, and garlic cloves. The addition of salt pinches and olive oil rounds out the dish and brings out the natural flavors.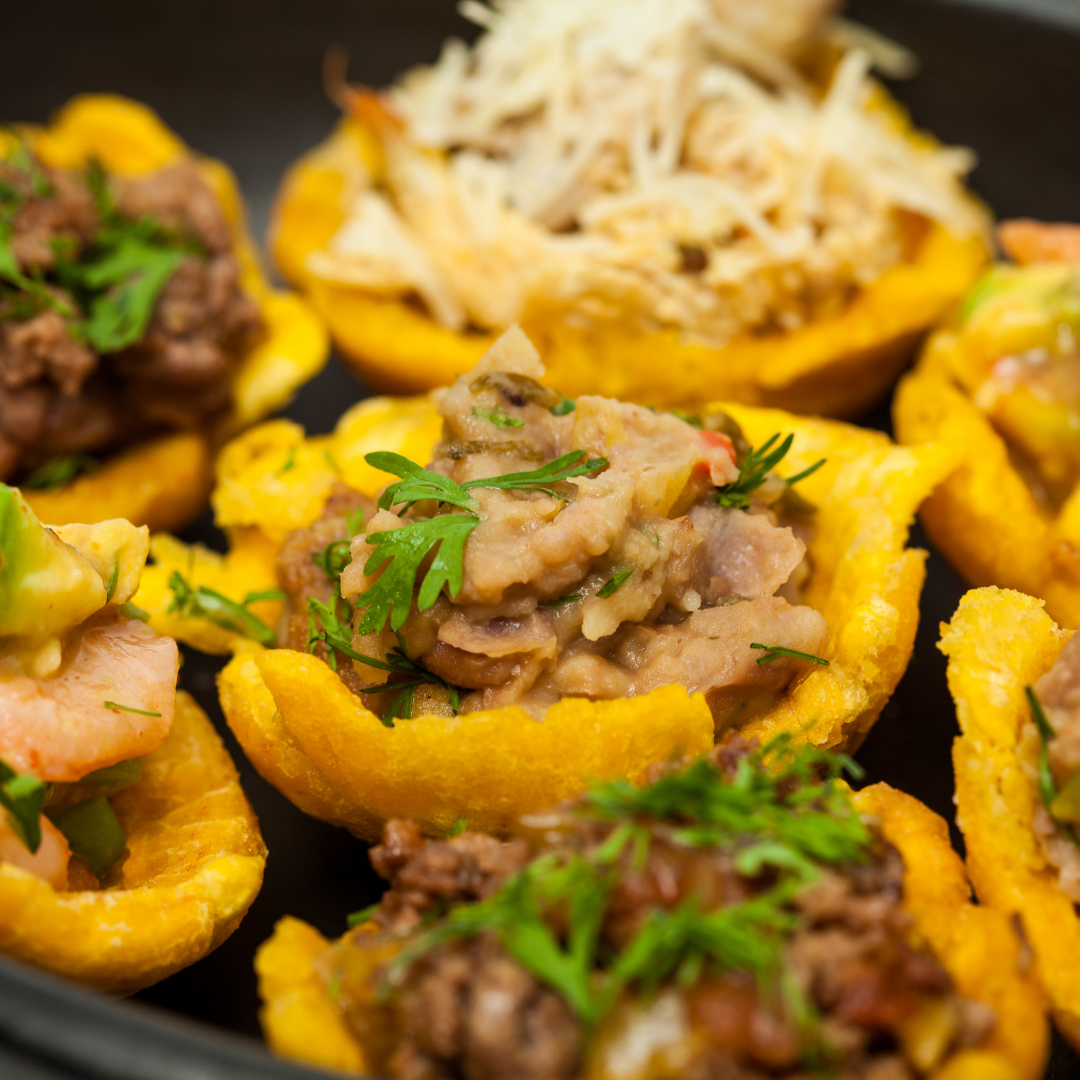 4) Tostones – (twice-fried plantains)
On the topic of popular side dishes, Tostones are favored additions to any Cuban dinner table. The recipe exists around the world in varying forms, but Cubans love it just the same. Tostones refers to specifically-prepared plantains, which are more starchy variants of bananas. Though they originated in Southeast Asia, plantains are now found all over the world; though often confused with bananas, plantains aren't as enjoyable when eaten raw. The most popular way to prepare plantains? Fry them up… twice!
Though the ingredients required are few and far between (just plantains, canola oil for frying, and some salt to taste!) the flavor is distinctive and comforting. For those unfamiliar with the taste, the closest comparison would be a delicious, fluffy biscuit.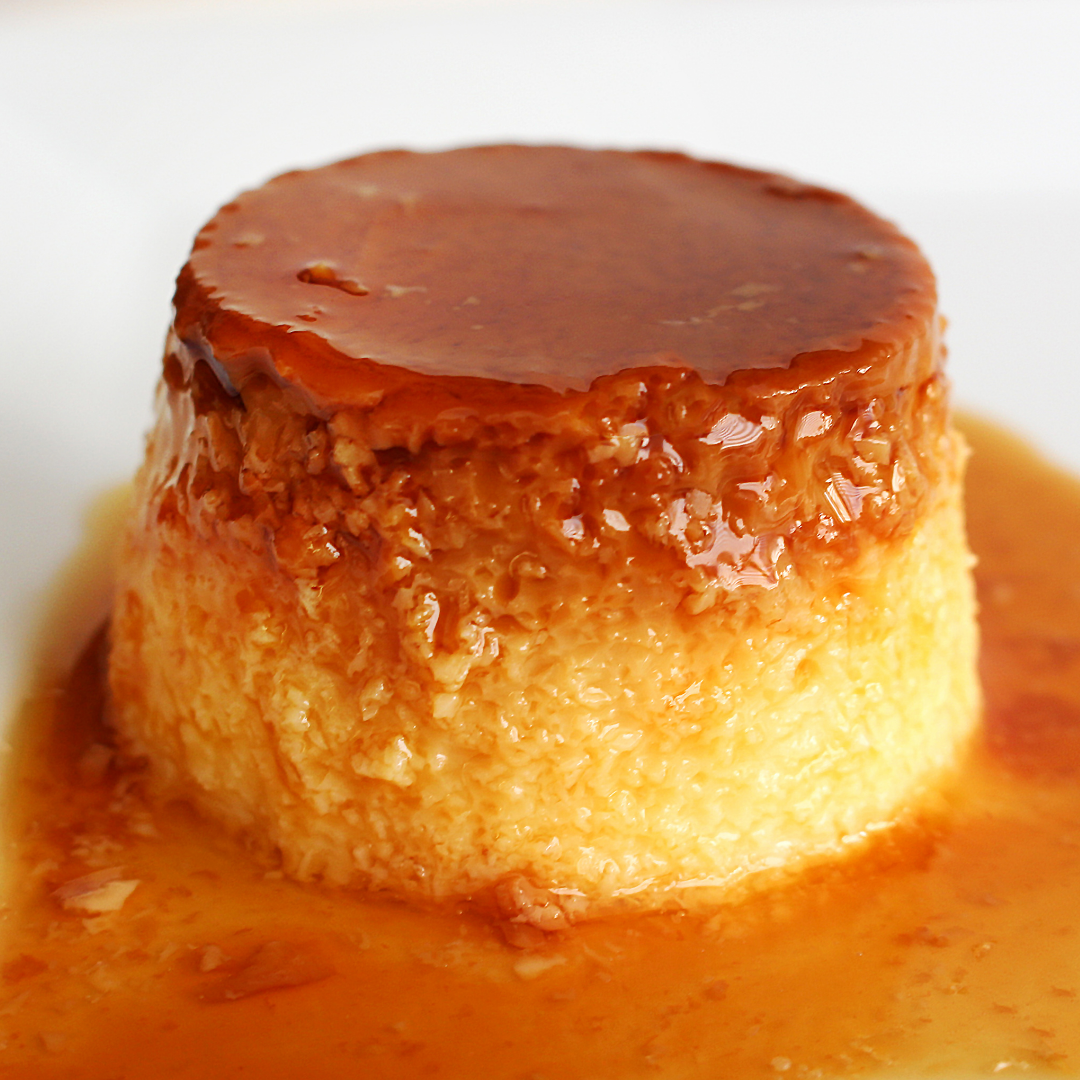 5) Flan – (caramel custard dessert)
Even as you round out your filling Cuban meal, the promise of something sweet can be a powerful force to keep your mouth watering. Flan is a prominent dessert in Cuba for two reasons: itss accessible ingredients and its sweeter-than-honey taste. As fresh milk in the country is typically reserved for young children, Cubans have adapted the global recipe to call for evaporated and condensed milk—an alternative that has, happily, produced a much creamier custard than its foreign iterations.
In addition to the milk, Cuban flan includes sugar, eggs (some whole, and some yolks), and vanilla. Most of these items can be found on local farms and baked in almost any container available (including halved soda cans) in either an oven or on the stovetop. The result; a perfect end-piece to a flavorful Cuban meal.
So there you have it! Our favourite staples amongst the traditional and tasty array of delicious Cuban food.
Hungry for more? Get authentic experiences outside the main hub of Havana through The Viñales Experience AND discover bespoke travel events around the globe with youRhere Modern Retreats.
Did you find this post interesting? Please support us and share it!
Pin and save this blog post for later